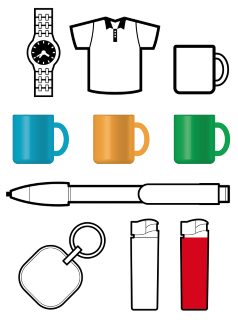 Customized promotional products are a great way to help people remember your company. Give them as gifts to your loyal customers and potential customers alike. You can also help establish identity for your organization or event by giving out promotional products to leave a lasting impression.
We can customize products to suit your need or particular occasion. Anything from a company logo, name, and number, to an event name or special message can be imprinted on various products.
Choose from a variety products with a range of costs. We can create things like pens, key chains, water bottles, bracelets, mugs, USB drives, bags & totes, and almost anything else you can think of.